MVP TICKETS
GROUP TICKETS
METRO VALUE PASSES (MVP) are a great idea for employee benefits, marketing and promotional premiums, customer incentives, sales rewards, thank you gifts and account generators. 
METRO VALUE PASSES (MVP) are designed for companies, organizations and groups that are interested in saving money by purchasing tickets in bulk.
---
Please note that 2020 is the final year for Silver Pass purchase availability.
---
Please allow 1-2 business days for processing, and note that we can only ship to a street address. 
Entering a PO Box as your "Ship-To" address will delay your order.
If you have any questions or need assistance - please call (310) 858-2844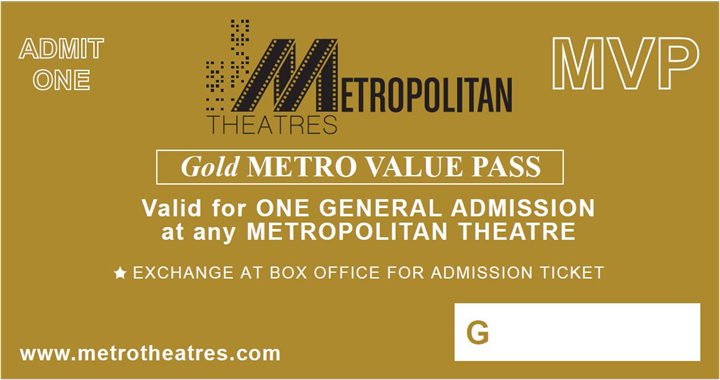 MVP GOLD
Good at any Metropolitan Theatre for One Admission
- Seven Days a Week -
Including "No Pass" Pictures
No Expiration Date
$7.95 per ticket. Minimum purchase - 50 tickets
Restrictions
Not Valid for Special Events 
Subject to Additional Surcharge for 3-D Presentations
Subject to Seating Availability
Non-Refundable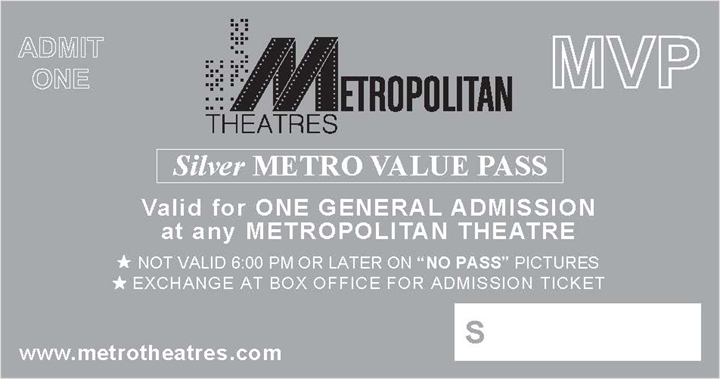 MVP Silver
Good at any Metropolitan Theatre for One Admission
- Seven Days a Week -
No Expiration Date
$6.95 per ticket. Minimum purchase - 50 tickets
Restrictions
Not Valid 6:00 pm or Later on "No Pass" Pictures
Not Valid for Special Events 
Subject to Additional Surcharge for 3-D Presentations
Subject to Seating Availability
Non-Refundable